Scissor Lifts Information
The scissor lift relies upon the elongation of a collapsible mechanism to provide vertical elevation in ratio to a rotational or linear input. These devices are widely utilized and are capable of lifting significant loads safely and efficiently.
Scissor Lift Operations
Scissor lifts owe their mechanical capability to the pantograph. A pantograph is a series of linked parallelograms with hinged intersections that allow the operator to elongate the mechanism while maintaining the integrity of the geometric figure.
The structural components of the pantograph serve as opposing line segments within adjacent parallelograms; geometric changes are therefore uniform across the mechanism. True vertical lift is accomplished by using components of equal length.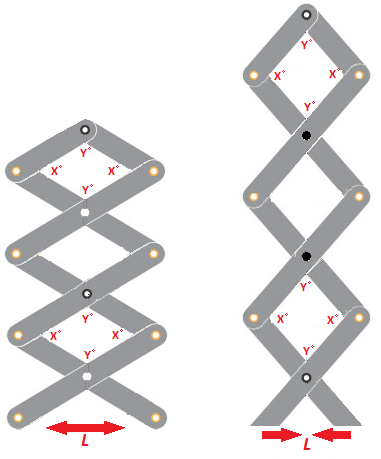 When two pantographs are arranged so as to actuate from a single drive they extend correspondingly and loads can be balanced between them. A calculator exists for computing the linear input force required according to where the drive supplies power to the scissor mechanism, be it upon the base or a center pin (as depicted below).
Scissor lifts require linear motion to supply elevation and this force is provided by a pneumatic or hydraulic actuator, or a mechanical input such as a lead screw or rack and pinion drive. Scissor lifts under fluid power are preferred because a purge valve allows the lift to be lowered during a malfunction. Lifts with independent locomotion can integrate lifting and propulsion into a single power source, be it diesel or electric work.
Some Other Related Search : Scissor Lift, Scissor Lift Rental, Scissor Lift Dealer, Scissor Lift Service provider, Scissor Lift Manufacturer, Diesel Scissor Lift, Battery Operated Scissor Lift, Scissor Lift Rental Chennai, Scissor Lift Rental Bangalore, Scissor Lift Rental Ahmedabad, Scissor Lift Rental Hyderabad, Scissor Lift Rental Delhi NCR, Scissor Lift Rental Pune